Welcome !
The Compostela Hotel, is located at Afife, Viana do Castelo, on north west of Portugal, few minutes away from Vila Praia de Âncora and Caminha.
The Compostela Hotel is integrated in a beautiful maritime and rural landscape composed by great beaches, very searched by the tourism, well known as the Green Coast "Costa Verde".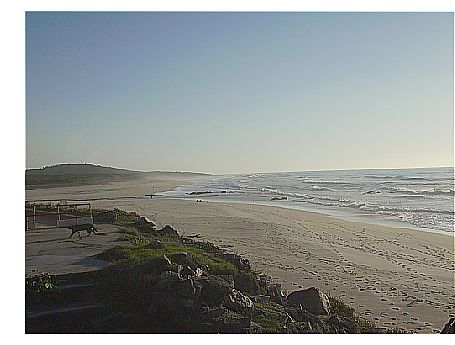 This zone makes part of the "S.Tiago of Compostela's Way", used by most peregrines which demand "S.Tiago de Compostela" on Galiza.
As main attraction, the Compostela Hotel, offers it's location, due to the fact of being located at few meters away from the beach of Afife.
For visitors comfort, this Hotel also offers a private Restaurant as well a private Parking.
The rooms are large with unforgettable views over beautiful landscapes.
It's decoration is soft and discrete, based on wood elements with predominance to the ground parquet made.
The bathroom is coated by marble or granite, and includes an indispensable hidro massage bath-tub.
At the Restaurant, the visitor will be welcome to taste a lot of different menus, with special note to those based on Portuguese traditional cook.
If you like to visit the beach, all you need is to travel over about 200 meters.
There you'll be delighted with a great sand-pit, kissed by the serene ocean and a recovering sun.
Come to know the "Costa Verde", and Minho's typical hospitality.
We are waiting for your visit!